One of our kitchen and bath designers, Heidi Bartels, provided us insight into her design style and process. Her favorite room to design is the kitchen. It is the heart of every home and brings her joy to see that space come to life. In order to start any new kitchen design, our designers pose specific questions to the client to discover how to best address the client's needs.
Client Discovery
During the client discovery process, Heidi uses select questions to really get a sense of the client's expectations for a bath design or a kitchen remodel as well as understand the best design layout for functionality.
Kitchen Design Questions
Some questions are catered to understanding the style clients are hoping to achieve:
What do you like and not like about the current kitchen?
What is the architectural style of the home and do you want to incorporate that style into your kitchen?
What is the general style that you like: contemporary, traditional, farmhouse, transitional…?
What colors do you like or dislike?
Understanding what appliances will be selected (whether they are new or existing) is a necessary early decision. Choosing the appliance color also plays a strong role in the overall style of the kitchen.
Kitchen Layout Questions
Heidi also likes to determine if the client is interested in changing the layout or keep to the current design. Storage space is always a big question — optimizing the layout of your kitchen design for storage is a must. Heidi needs to get a sense of how much clients need for mid-sized kitchen items like toasters, coffee makers, blenders, etc.
She likes to understand how many people cook in the kitchen and whether they are left or right-handed or if there are any special needs or accommodations that are required.
And the final, all-encompassing question: Do you have a wish list? These questions help guide Heidi in the design process to exceed the clients' expectations.
Kitchen Design Process
When you embark on a new kitchen design, the important things to consider when designing a kitchen are:
Budget
Layout
Lighting
Flooring
Appliances
Worksurface
Why Use a Kitchen Designer
When it comes to any home project, there will always be challenges which is why we have professional designers like Heidi to help you through the process. One of the reasons homeowners remodel their kitchen is because it wasn't originally designed with their individual needs in mind. We step in to fix this.
A lot of homeowners need more storage space or a better layout/workflow. And you can never have enough counter space! It's important to discover how they use their space and the amount of storage they require in a new kitchen design (even simply providing enough room for trash and recycling. Designers also need to understand the habits or environment of the home.
It's important to discover and strategize how to overcome these challenges through client discovery to understand how they live in the space. Heidi loves to introduce her favorite design style to clients to help them optimize the space with a comfortable, inviting and functional approach.
Favorite Kitchen Design Style
Heidi's go-to design style features light wood finishes, natural lighting, minimalism and functionality.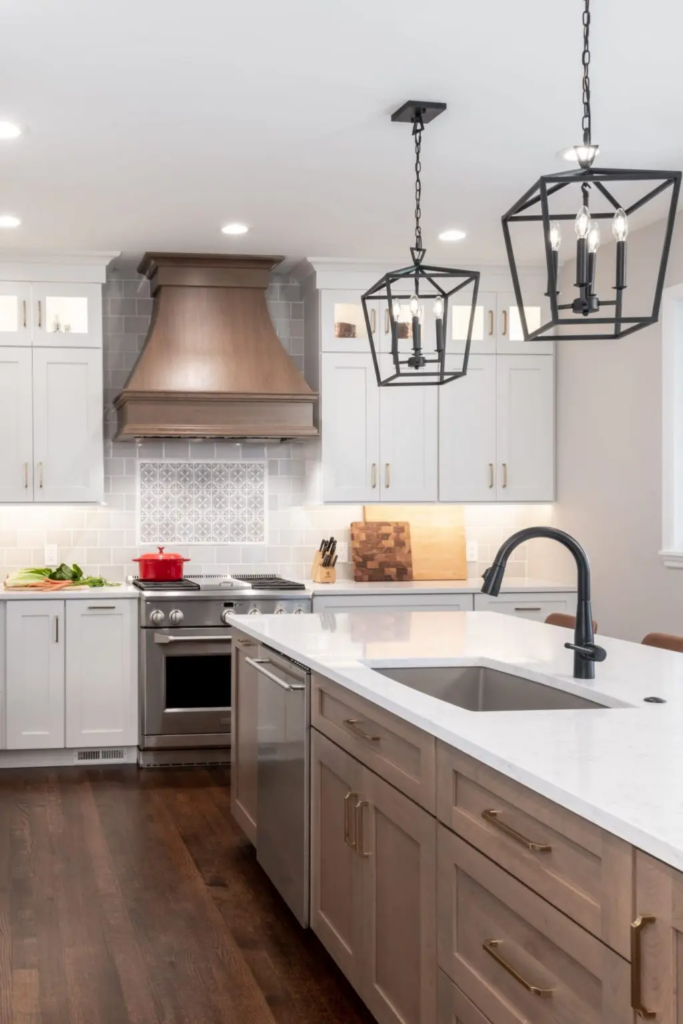 Scandinavian Design
Scandinavian design maximizes light at every turn. The lack of clutter and ornamentation makes it aesthetically pleasing. The design approach focuses on craftsmanship, materials and clean lines. Scandinavian or Nordic design's small nuances make it different than minimalism or contemporary design. It's inspired by nature and the climate of the region it emanated from.
Heidi, who has been a designer at RSI Kitchen and Bath in St. Louis for the last 8 years, loves working with RSI first and foremost because it is a family-owned and operated company that has been in business since 1947.
At RSI everyone shares the same vision of creating beautiful spaces that our clients love. We overcome challenges together as a team. The company helps you grow and gives you the support you need to do that. Our kitchen and bath designers are here to guide you through your kitchen renovation or bath redesign process to optimize your investment and design your desired space.
—
If you're interested in working with Heidi, or one of our other fabulous designers at RSI Kitchen and Bath Design, contact us today.